Military Cash Advance Loans
If you are a current or former member of the Armed Forces, Cash Advance Online offers online personal loan solutions with low fixed rates and long-term loan periods of your choosing, up to $40,000. In addition to active duty military members, veterans and military family members and dependents are also eligible to apply. The proceeds of these loans can be used for any purpose.
GET approved today for a fair, honest personal loan! Choose your loan term (between 1, 3, and 5 years).
CASH when you need it! Upon approval, the money can be transferred directly into your bank account within 2-4 business days.
FAST application process! With just 5 minutes of your time, you can be on your way to financial security today.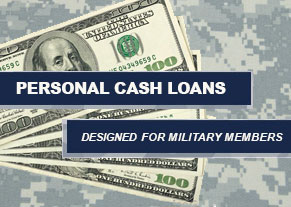 Many of those in need of financial help often turn to payday lenders and typical cash advance loans which can end up haunting them for life. Traditional payday and cash advance companies lend with predatory interest rates and short loan terms that can lead to perpetual loan renewals, piling debt upon debt, over and over again. Simply put, our soldiers and veterans deserve better.
Cash Advance Online offers only trustworthy, honest loan options with fixed rates (as low as 5.99%) and your choice of loan term period (1, 3, 5 years). These loans have no hidden fees and no surprise charges. If you are looking for fast cash, up to $40,000, we are here to give you the loan opportunity that our troops and their families deserve. Apply today!
GET APPROVED TODAY