Terms of Use
CashAdvanceOnline.com's presentation of personal loan options, including all loan rates, loan terms, or loan amounts, are provided as a free service to consumers; no implicit of explicit offer of credit is made. Some consumers may not qualify for the loan rates, loan terms, or loan amounts exhibited depending upon a variety of factors which the licensed consumer credit entities or financial services companies may utilize in deciding to extend a(n) offer(s) of credit to individuals. Members of the armed forces seeking loans may be subject to substantially different applications or underwriting processes than those generally described on this website, due to compliance issues relating to both the Military Lending Act and the Servicemembers Civil Relief Act, which both require issuers of credit to military members, especially those on active duty, to comply with a variety of regulations and rules, including, in some instances, a maximum loan interest rate cap of 6.00%. CashAdvanceOnline.com does not engage in the underwriting processes, in any instance, for any loan or offer of credit, nor does it originate any credit or debt instruments, and it may, in certain instances, be compensated for directing consumers to particular financial services companies or licensed consumer lending entities which may ultimately provide any offering to a particular consumer. CashAdvanceOnline.com does not charge a fee for the information provided via this web site, nor does it collect or, in particular, share any sensitive personal or financial information about the users of this web site.
GET approved today for a fair, honest personal loan! Choose your loan term (between 1, 3, and 5 years).
CASH when you need it! Upon approval, the money can be transferred directly into your bank account within 2-4 business days.
FAST application process! With just 5 minutes of your time, you can be on your way to financial security today.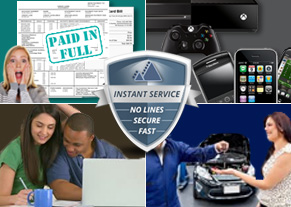 GET APPROVED TODAY