Installment Loans
If you are looking for an installment loan that won't break your bank, Cash Advance Online has a simple and safe solution for you. In addition to having low, fixed interest rates, these loans let you choose the length of your loan period, and you can fully pay off the loan at any time without incurring any early payment fees or prepayment penalties. Borrow up to a maximum of $40,000.
GET approved today for a fair, honest personal loan! Choose your loan term (between 1, 3, and 5 years).
CASH when you need it! Upon approval, the money can be transferred directly into your bank account within 2-4 business days.
FAST application process! With just 5 minutes of your time, you can be on your way to financial security today.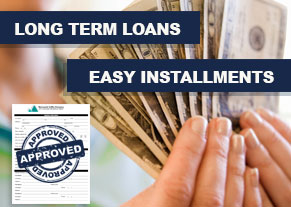 These loans are much safer and less costly than other installment loans. We offer only fair, honest, affordable online personal loan options with long-term installment plans. These loans have fixed rates as low as 5.99% and loan terms of your choice (1, 3, and 5 year options). And if you decide to repay your loan early, there are no penalty fees.
With just 5 minutes of your time, apply to borrow up to $40,000 today at Cash Advance Online.
GET APPROVED TODAY