Merchant Cash Advance
For businesses who need extra capital quickly, a merchant cash advance, or business cash advance, can supply you with cash necessary for any business related expenses. A merchant cash advance is a purchase of a fixed amount of your business's future debit and credit card revenue. Unlike a loan, this type of funding is a purchase from an MCA provider. The repayment process is simple: a fixed percentage of the daily debit and credit card transactions are instantly sent to the MCA provider until the cash advance is paid in full. No bills, no due dates!
GET funding with a merchant cash advance! Use future credit/debit card sales to draw in cash today.
CASH when you need it! Upon approval, the money can be transferred directly into your bank account within 2-4 business days.
FAST application process! With just 5 minutes of your time, you can be on your way to financial security today.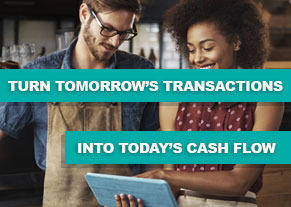 Cash Advance Online can help you get a merchant cash advance, providing you with an accessible cash flow. A merchant cash advance can offer financing to hire a few more employees, provide a deposit for future expansion, or help with acquiring new inventory for the holidays. There is no limit! A cash advance for business can be a faster and safer way to re-invest in your business and it's future success.
GET APPROVED TODAY